prof. dr hab. n. med. Marcin Stopa:

---
cv.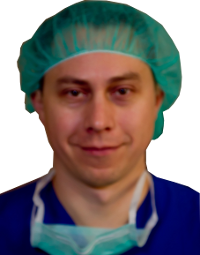 Prof. Marcin Stopa specjalizuje się w diagnostyce, leczeniu i chirurgii siatkówki oraz ciała szklistego (

operacje witrektomii

).
Ukończył Wydział Lekarski I Akademii Medycznej w Poznaniu. Tytuł doktora nauk medycznych uzyskał z wyróżnieniem na Uniwersytecie RWTH Aachen (Niemcy). Stopień doktora habilitowanego nauk medycznych otrzymał na Wydziale Lekarskim I Uniwersytetu Medycznego w Poznaniu. Obecnie jest kierownikiem Kliniki Chorób Oczu Katedry Chorób Oczu i Optometrii Uniwersytetu Medycznego im. Karola Marcinkowskiego mieszczącej się w Szpitalu Klinicznym im. Heliodora Święcickiego w Poznaniu.
---
staże.

Odbył 2 roczne staże w USA:
w zakresie chorób siatkówki w Klinice Okulistyki Uniwersytetu Cornell w Nowym Jorku, NY
w zakresie chirurgii witreoretinalnej w Klinice Okulistyki Uniwersytetu Duke w Durham, NC
---
patenty.

Współautor 2 patentów zagranicznych
Verfahren zur Herstellung von zielzellspezifischen Arzneimitteln,

patent wydany w

Niemieckim Biurze Patentowym w Monachium,

patent 10057014

Method and system of coregistrating optical coherence tomography with other clinical tests

, patent wydany w Amerykańskim Biurze Patentowym (USPTO),

patent 20070115481
---
publikacje.

Publikacje zagraniczne:
M. Stopa, V. Benes, W. Ansorge, A.M. Gressner and S. Dooley. Genomic locus and promoter region of rat SMAD7, an important antagonist of TGFß signaling.

Mammalian Genome.

2000; 11, 169-176.
M. Stopa, D. Anhuf, L. Terstegen, P. Gatsios. A. M. Gressner and S. Dooley Participation of Smad2, Smad3 and Smad4 in TGFß induced activation of the TGFß-response element in the promoter region of Smad7.

J. Biol. Chem.

2000; 38, 29308-29317.
S. Dooley, B. Delvoux, M. Streckert, L. Bonzel, M. Stopa, P. ten Dijke, A. M. Gressner. Transforming growth factor beta signal transduction in hepatic stellate cells via Smad2/3 phosphorylation, a pathway that is abrogated during in vitro progression to myofibroblasts.

FEBS Lett.

2001; 502, 4-10.
H. Lincoff, I. Kreissig, M. Stopa. A Modified Laser Test for the Identification of Retinoschisis.

Am J Ophthalmol.

2003;136(5):925-6.
Lincoff H, Stopa M, Kreissig I. Ambulatory binocular occlusion.

Retina.

2004;24:246-53.
Lincoff H, Stopa M, Kreissig I, Madjarov B, Sarup V, Saxena S, Brodie S. Cutting the encircling band.

Retina.

2006;26:650-4.
Stopa M, Toth CA. A Method to Free Retina and Vitreous From Intraoperative Incarceration in the Sclerotomy.

Retina.

2006; 26:1070-1071.
Stopa M, Lincoff A, Lincoff H. Analysis of forces acting upon submacular hemorrhage in pneumatic displacement.

Retina.

2007 Mar;27:370-4.
Lincoff H, Kreissig I, Stopa M, Uram D. A 40 degrees gaze down position for pneumatic displacement of submacular hemorrhage: clinical application and results.

Retina.

2008 Jan;28(1):56-9.
Stopa M, Bower BA, Davies E, Izatt JA, Toth CA. Correlation of pathologic features in spectral domain optical coherence tomography with conventional retinal studies.

Retina.

2008 Feb;28(2):298-308.
Czajka MP, Stopa M, Sosnowski P, Wasilewicz R, Kocięcki J. New insight into the pathology of macular detachment associated with an optic disc pit.

Acta Ophthalmol.

2010 Sep;88(6):e241-2.
Stopa M, Kocięcki J. Side illumination for internal limiting membrane peeling without staining in macular surgery.

Retina.

2010 Sep;30(8):1308-10.
Stopa M, Kocięcki J. Anatomy and function of the macula in patients after retinectomy for retinal detachment complicated by proliferative vitreoretinopathy.

Eur J Ophthalmol.

2011; 21(4): 468-472
Stopa M, Czajka M, Twardosz-Pawlik H, Kociecki J. Besondere Netzhautablösungsform bei einem myopischen Patienten.

Klin Monatsbl Augenheilkd.

2007 Oct;224(10):805-6.
Stopa M, Rogalińska I, Kocięcki J. Partial regression of degenerative retinoschisis associated with epiretinal membrane after vitrectomy.

Eur J Ophthalmol.

2010 Mar-Apr;20(2):476-8.
Stopa M, Kocięcki J, Rakowicz P., Dmitriew A. A pedicled autologous choroid RPE patch: a technique to preserve perfusion.

Videosurgery Miniinv

2012; 7 (3): 220-223
Stopa M., Kocięcki J., Rakowicz P., Gotz-Więckowska A., Rogulska M. Comparison of Anatomical and Functional Results after Retinotomy for Retinal Detachment in Pediatric and Adult Patients.

Eur J Ophthalmol.

2013 May-Jun;23(3):410-6.
Rozdziały w podręcznikach międzynarodowych
M. Stopa. Racemose hemangioma of the retina.

Case Rep Clin Pract Rev.

2002;3:257-259.
Gotz-Wieckowska A, Pecold K, Stopa M. Wyniki leczenia wrodzonego jednostronnego zwężenia i przemieszczenia źrenicy - opis przypadku.

Klin Oczna.

2003;105(3-4):192-3
Marcin Stopa, Małgorzata Mazur-Roszak, Krystyna Pecold. Przypadek chłoniaka nieziarniczego zlokalizowanego w okolicy nadoczodołowej.

Klin. Oczna

2005 R. 107 nr 4-6 s. 358-360
Stopa M., Kocięcki J. Translokacja plamki z retinektomią 360° u chorych z krwotokiem podsiatkówkowym w przebiegu zwyrodnienia plamki zwiaząnego z wiekiem.

Klin. Oczna

2009. 111 nr 1-3 s. 50-55
Stopa M, Rospond-Kubiak I, Rakowicz P, Kociecki J. Autologiczny przeszczep naczyniówki i nabłonka barwnikowego siatkówki w leczeniu krwotoku podsiatkówkowego w przebiegu zwyrodnienia plamki związanego z wiekiem.

Klin Oczna.

2010;112(7-9):230-5.
Stopa M. Perspektywy terapii genowej w okulistyce.

Klinika Oczna.

3-4, 2002. 289-292
Stopa M., Czajka M. Profilaktyka pooperacyjnego zapalenia wewnątrzgałkowego w chirurgii okulistycznej.

Okulistyka

2004 T. 7 nr 1 s. 18-20
Stopa M., Wilk M. Proces starzenia się ciała szklistego i jego znaczenie dla okulisty.

Okulistyka

2004 T. 7 nr 4 s. 42-44
Kocięcki J., Stopa M., Załęcki K. Ocena użyteczności soczewki dyskowatej w zabiegach łączonych usunięcia zaćmy z pars plana witrektomią.

Klin. Oczna

2009 R. 111 nr 4-6 s. 115-118.
Stopa M, Kocięcki J. Wyniki leczenia egzogennego zapalenia wnętrza gałki ocznej za pomocą witrektomii połączonej z antybiotykoterapią doszklistkową w oczach z ostrością wzroku lepszą niż poczucie światła.

Klin Oczna

. 2010;112(1-3):15-8.
---
© Marcin Stopa 2010-2014. All rights reserved.